Home
Since 1990, Craig Vinyl & Aluminum has provided services to Bradenton, FL and all of Manatee and Sarasota Counties for all of their siding needs.
The business was established in 1990, later incorporated in 95. Our mission statement is to provide a professional vinyl siding installation service. This material when installed properly, provides the homeowner with a complete seal from the weather, which includes a house-wrap barrier or polystyrene insulative barrier, a seal of window and door edges with tar tape, window , door and corner trim to accommodate the siding, and a metal base starter strip at the base of the siding. I repair all damaged original siding prior to any installation. The siding I use is made by Certainteed and their website is Certainteed .com, as well as Wolverine products at siding.com.
Soffit materials for coverage of eaves and overhangs are also provided by these companies in solid vinyl. These products offer many colors.
I buy my aluminum soffit and fascia materials locally at Pass Industries of Bradenton Fl. Their address is 6208 28th St. E in Bradenton.
My workmanship is top rated and I custom trim just about anything that requires an aluminum surface such as window and door frames, fascia boards, vents, posts, beams and sills.
We are a small local family owned operation and our target customers are single family homes, businesses, and on occasion other contractors.
Other types of work we perform are Gutters and downspouts, screen porch repair, vinyl siding repair, screen replacement, as well as mobile home repair and mobile home vinyl siding.
I would like to say that I will beat any legitimate bid and provide all warranty info and workmanship guarantees.
I'd like to add that I can provide contacts for references on work I have already done.
I can now as you know be found on facebook, and have advertising with Verizon yellow pages for Manatee County and the gulf beaches under Siding Contractors.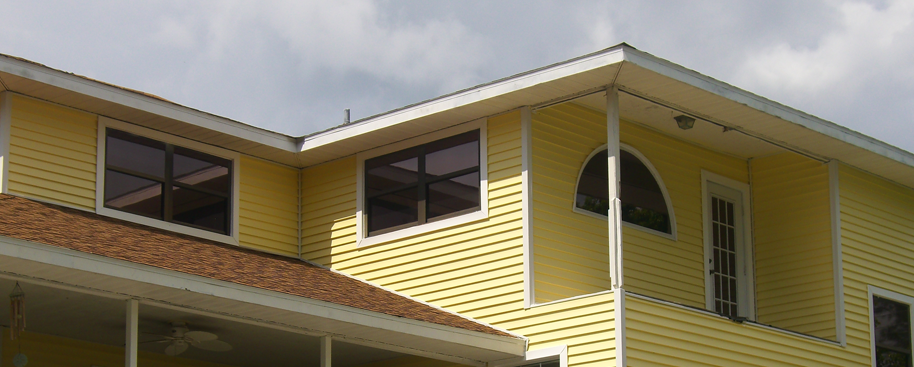 We primarily install Vinyl Siding which in itself has many aspects. First we prep the original surface to be sided, make sure all of the bad or rotton wood areas are repaired. Then we install trim around doors and windows to accomodate the siding edges. Some times we use a Tyvek or similsr brand of housewrap for a vapor barrier, or use different thicknesses of polystyrene insulation as an underlayment. Window edges are taped for additional weatherproofing..Sometimes when there are wooden window frames and sills, we custom fabricate aluminum trim to cover the dimensions of the wood. When all trim is in place, the siding is installed according to manufacturers specs- see siding.com/installation guide, or Certainteed.com for details. After siding is in place, window and door perimeters are sealed with Solar Seal 700 exterior caulk which is available in all siding colors. All electrical and light fixtures are re-installed onto vinyl j-block mounts for a clean finish. Manufacturer has warranty info.
Our second product is installing vinyl or aluminum Soffit and Fascia systems. The soffits on a home are sometimes called eaves or even just overhangs. We prep these areas by repairing all rotted or damaged wood, then installing a j-channel track to return the individual soffit panels into, then covering the outside face board or fascia with either a vinly clad aluminum or standard baked enamel aluminum.
We install 5'' and 6" aluminum roll form rain gutter. Downspouts include 2x3, 3x3, and 3x4 inch. Our gutter is installed with hidded hangers rather than the older gutter spikes, and all seams sealed.
Occasionally we install standard fan type window awnings.
A very popular product is the Beaded vinyl ceiling panel. This is for exterior ceilings such as porch, lanai, walkways. Its triple 2" panel has a very elegant look to it, and is a nice alternative to regular soffit panels.